MagicFest Gala "LEVITATIONS"
Event Details
Date  Sat 8 Jul
Time  2.30pm (matinee), 7.30pm
Venue  The Festival Theatre
Duration  2hr 30mins with interval
Ages  5+
Price  £24 – £33
BOX OFFICE 0131 529 6000
Booking fee – included in price
The MagicFest red carpet show – featuring Kevin Quantum (BBC, C4), Marko Karvo (World Magic Champion), Cubic Act ("best illusion we've ever seen" – Penn and Teller), and many more.
The best illusion and circus acts from around the world assembled to perform a visually stunning and breath-taking flight of fancy, many making their UK debuts, in a one-off show, never to be repeated.
Floating, suspended in space, soaring and shooting through the air… detaching you from the real world to one where levitation becomes a reality.
Enter a room where the rules of Gravity are bent and broken… just for a moment… at 'Levitations' the 2017 MagicFest Gala performance.
"the best big illusion stage act we've ever seen."
Penn & Teller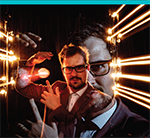 KEVIN QUANTUM (UK) The Magician-Scientist Hybrid invites celebrated illusionists from around the world to Edinburgh, each with a special take on our dream of flight.
Guinness World Record Breaker and recently awarded 'high commendation' at the Adelaide Fringe, Kevin Quantum explores the exotic space where science and magic meet, hosting the show and presenting the results of his research into magical levitation.
His findings are brought to life on stage as he invites you to let your imagination fly.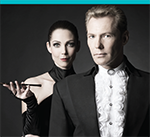 MARKO KARVO (Finland) World Magic Champion Marko Karvo and his assistant Vanessa have excited millions of viewers around the world with their exotic birds. A beautiful mix of wonder and magical elegance….poetry in motion! There are bird acts and then there is Marko Karvo.
CUBIC ACT (France) These mysterious masterminds and their floating box will leave you bemused and astonished as they distort reality and defy gravity. 'Cubic Act' was recently featured on hit ITV show, 'Penn & Teller: Fool Us'. The act left Penn & Teller astounded, with Penn saying; "I think it's the best big illusion stage act we've ever seen." Presented by Bertox, Maxime Delforges and Léopoldine.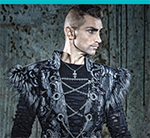 AARON CROW (Belgium) With his fusion of magic, suspense, risky stunts and mystery, Aaron is able to capture the crowd's attention without uttering a single word. His unmatched power and eloquent silence has long since become his onstage trademark, always leaving his audience at the edge of their seats and longing for more.
MagicFest Gala – In Depth
Life times are spent creating magic acts that are so fantastic the performer will spend years touring this 'perfect show' globally. MagicFest Gala taps into this underground market and offers the only opportunity to experience these innovative magic and variety acts in Scotland.
This is our third year at the Festival Theatre with this show and we're so happy to be back. One of the city of Edinburgh's most amazing stories is around illusionist 'The Great Lafayette' who performed his last ever show here. Certainly worth a google…